When it comes to web design, it is not always easy to find the right company to help you build your next website.
It is important that an agentur has the credibility and experience to help you reach your goals, but is is also important to see that they can do a great job on their own site.
So with this in mind, I have collected some of the best web design agencies in Zürich.
Station
Stations were one of best web design companies mentioned in this year's Best of Swiss Web.
They have accomplished quite a lot and one of their latest achievements was:
You can see on their website that they have web design expertise, because their own website is an artistic masterpiece itself.
Their website has a background of funky music, along with some creative elements throughout their website. One great example is their Live section where they show a live webcam of their office. I know, not something you probably want to see, but interesting nonetheless.
They also have a cool timeline of projects they have been working on, which shows the usual portfolio in a new light. And I absolutely love their Team page where all of the staff are diaplyed in relaxed poses, and on top of that, they are all doing something (i.e.. the are showing gifs, not just photos). Then this section is made even more fun by showing a gif style info graphic of statistics of a day in the company.
Amazee Labs
Amazee have a very creative team and are also very active in the Zurich web and analytics communities with monthly meetups which I attend quite often. This is very appreciated by designers and web lovers in Zürich, that I can tell you.
Their site is very creative and features their staff very heavily, which is a nice touch.
Take a look at the homepage which has a nice personal feel about it and lures the visitor in quite quickly: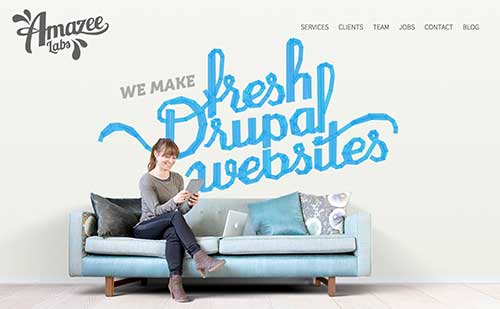 Of course, as a WordPress designer myself, I am not a huge fan of Drupal, but we each choose our speciality and they are very good at theirs.
They produce very modern and creative websites and are certainly worth a look for your next project.
Serranetga
This is another web design company that has been featured in theBest of Swiss Web, with their latest work:
Their website is also a little more creative than most with a feature list that is show in a vertical slider, one page website style form. And their Team page also involves a cool slider of head shots of all the team.
Overall it is not a stunning site, but is clean, modern and of course full responsive. Something that is absolutely crucial these days.
Unic
Website: Unic
One of the bigger and more developed web design agencies in Zurich is Unic.
They do far more than web design, but they are known for some of their bigger corporate achievements, and their Bronze award in the Swiss Web Awards for their transport sites for ZVV and RhB as well as their creation of the Mondovino site for coop.
From their own website, I cannot say too much because i consider it to be just functional. Which obviously targets their corporate background and the kinds of clients they serve.
Maxomedia
Website: Maxomedia
Maxomedia have also been busy and were mentioned in the awards as well, as were most of the best we design companies in Zurich.
Their site is very fluid with lots of nice imagery and a very clean look and feel. They seem to be going for a flat, black and white design, which works well, although it lacks a little pizzaz.
Here is the staff page for example which is quite nicely layed-out, even if the images are not the best quality in my opinion.
They are also active bloggers which is always nice to see in a design company, because many do not or cannot find the time. Even with full time staff.
Final Thoughts On Web Design in Zurich
It pays to do your research on a web design company. See what services they offer, the kinds of work they have done in the past and see if it is a good fit.
If you are a small business you might want a smaller operator, like us, , or if you are a big firm then someone like Unic might make sense as they offer the full scope of support.
If you need help with your next Web Design project, feel free to give us a shout.